Listing Of The Towns A1-Oil Services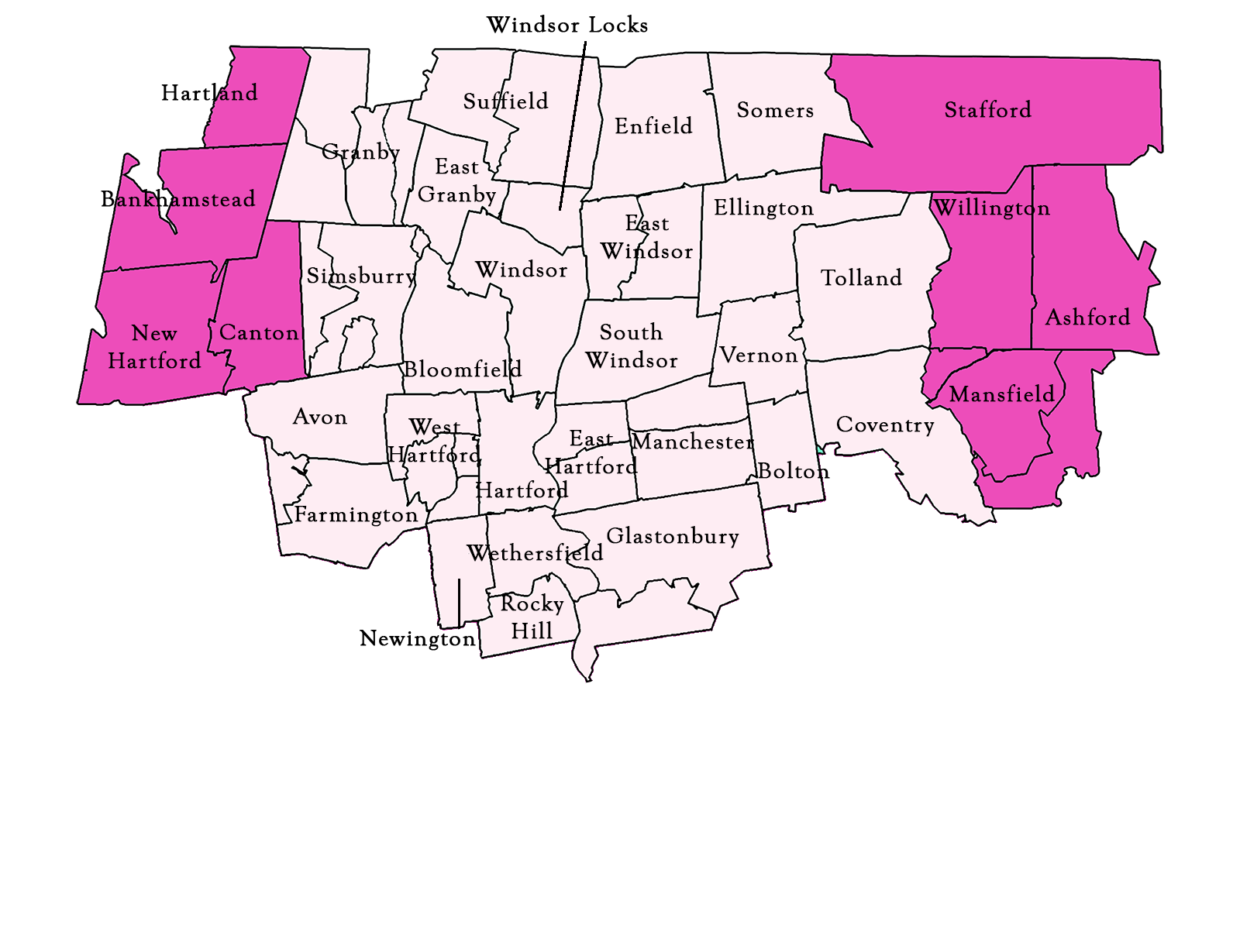 | | |
| --- | --- |
| Pink Towns: now being delivered on Tuesday and Thursdays | All other towns delivered daily |
| Hartland 06027 | Granby 06035 |
| Bankhamsted 06063 | East Granby 06026 |
| New Hartford 06057 | Suffield 06078 |
| Canton 06019 | Enfield 06082 |
| Mansfield 06250 | Somers 06071 |
| Ashford 06278 | Windsor Locks 06096 |
| Willington 06279 | East Windsor 06088 |
| Stafford 06075 | Ellington 06029 |
| | Tolland 06084 |
| | Simsbury 06070 |
| | Bloomfield 06002 |
| | Windsor 06095 |
| | South Windsor 06074 |
| | Vernon 06066 |
| | Coventry 06238 |
| | Bolton 06043 |
| | Manchester 06040 |
| | East Hartford 06108 |
| | Hartford 06102 (+35 zip codes) |
| | West Hartford 06107 |
| | Wethersfield 06129 |
| | Newington 06131 |
| | Rocky Hill 06067 |
| | Farmington 06032 |
| | Avon 06001 |
| | Glastonbury 06033 |
Terms & Policies
"Will Call" Customers whose oil tank has become empty will require a re-start and will be charged an additional fee.
Deliveries after hours or on weekends will be charged an Emergency Delivery fee.
Insufficient funds checks will be charged the Full Price and a $30.00 fee. If your account has two or more returned checks we will require payment in credit card, cash, bank check or money order only.
WE HOPE TO HAVE THE OPPORTUNITY TO SERVE YOU AND YOUR FAMILY.
PLEASE FEEL FREE TO CALL OR EMAIL WITH ANY QUESTIONS OR CONCERNS.